Quick Questions with Alexander McCall Smith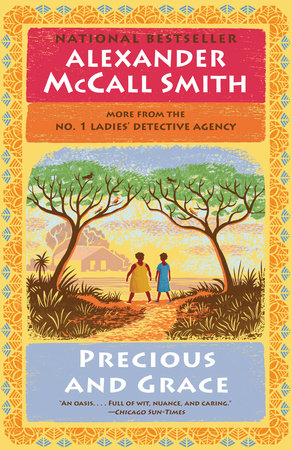 Here at the Reading Group Center, we get asked about our favorite authors a lot. While the list is long and varied, there is one name that always makes the cut. Alexander McCall Smith has written so many wonderful novels that we're convinced there's something for everyone in his library of books.
The latest installment in McCall Smith's most beloved series, The No. 1 Ladies' Detective Agency, recently came out in paperback. Precious and Grace has all the hallmarks of a great McCall Smith work: it's charming, amusing, filled with warmth, and it features the characters we've come to know and love. We've decided to mark its paperback release by getting to know McCall Smith a little better. Check out his delightful responses to our rapid-fire interview below!
Reading Group Center: What is your go-to book recommendation?
Alexander McCall Smith: Jane Austen's Emma. I love her dry humor.
RGC: Who/what inspires you?
AMS: The poet W. H. Auden. His work is a constant inspiration.
RGC: Do you have a pet? If so, what kind?
AMS: I have had a succession of Tonkinese cats—they are wonderful, friendly creatures.
RGC: Who is your favorite character to write about and why?
AMS: It is difficult for me to choose a particular favorite from amongst my characters, but I am very fond of Mma Ramotswe and, of course, poor little Bertie from the 44 Scotland Street series.
RGC: Are you a morning person?
AMS: Very much so. I often get up very early to write and find I can be very productive at that time, when it is peaceful with no disturbances.
RGC: How do you take your tea?
AMS: I enjoy peppermint tea and also Red Bush Tea, with a little milk.
 RGC: How many places have you lived?
AMS: I was born in the country which is now known as Zimbabwe but have lived most of my adult life in Scotland. I lived for a year in Northern Ireland and then for two periods of six months in the United States, when I was a visiting professor in Dallas. I have also lived in Botswana and Swaziland.
RGC: What's your favorite season?
AMS: I like crisp clear days in the fall when the leaves on the trees are glorious colors.
RGC: What did you aspire to be when you were a child?
AMS: I always wanted to be a writer, even as a small child.