Celebrating Ali Smith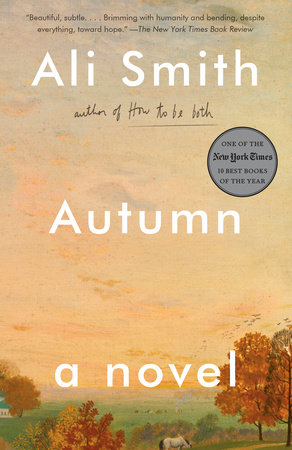 Readers, we need to talk to you about our latest literary crush: Ali Smith. It's always exciting to discover a new favorite writer, but with an author as beloved and prolific as Ali Smith, it can sometimes be intimidating to know where to begin reading. To help you out, here is our guide to the must-read novels and story collections by this innovative, award-winning literary giant.
Autumn
A luminous meditation on the meaning of richness and harvest and worth, Autumn is the first installment of Ali Smith's Seasonal quartet, and it casts an eye over our own time: Who are we? What are we made of? Shakespearean jeu d'esprit, Keatsian melancholy, the sheer bright energy of 1960s pop art. Wide-ranging in timescale and light-footed through histories, Autumn is an unforgettable story about aging and time and love—and stories themselves.
Read an excerpt | View the reader's guide
---
Borrowing from painting's fresco technique to make an original literary double-take, How to be both is a novel all about art's versatility. It's a fast-moving genre-bending conversation between forms, times, truths and fictions. There's a Renaissance artist of the 1460s. There's the child of a child of the 1960s. Two tales of love and injustice twist into a singular yarn where time gets timeless, structural gets playful, knowing gets mysterious, fictional gets real—and all life's givens get given a second chance.
Read an excerpt | View the reader's guide
---
Filled with Ali Smith's trademark wordplay and inventive storytelling, here is the dizzyingly entertaining, wickedly humorous story of a mysterious stranger whose sudden appearance during a family's summer holiday transforms four variously unhappy people. Each of the Smarts—parents Eve and Michael, son Magnus, and the youngest, daughter Astrid—encounter Amber in his or her own solipsistic way, but somehow her presence allows them to see their lives (and their life together) in a new light. Smith's narrative freedom and exhilarating facility with language propel the novel to its startling, wonderfully enigmatic conclusion.
Read an excerpt | View the reader's guide
---
Five people: four are living; three are strangers; two are sisters; one, a teenage hotel chambermaid, has fallen to her death in a dumbwaiter. But her spirit lingers in the world, straining to recall things she never knew. And one night all five women find themselves in the smooth plush environs of the Global Hotel, where the intersection of their very different fates make for this playful, defiant, and richly inventive novel.
---
Browse all of Ali Smith's books here