7 Spine-Tingling Reads for Your Book Club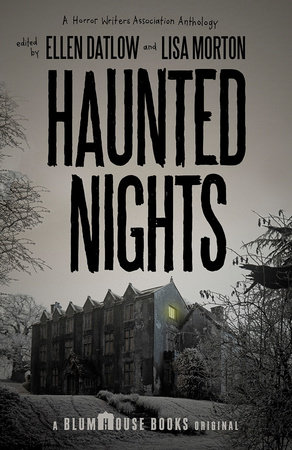 The season of crunchy leaves, haunted houses, and jack-o'-lanterns is upon us! We firmly believe that a cozy blanket and a warm cup of tea makes reading even the most frightening tales a pleasure, so there is no better time than now to dive into a truly chilling book. To help you choose the right scary story for you, we're sharing a few of our favorites. These reads are practically guaranteed to keep you awake long past your bedtime, but don't let that stop you from picking up one of these spooky books.
Haunted Nights Edited by Lisa Morton and Ellen Datlow
"The stories of Haunted Nights add some fine new twists to our fluid understanding and appreciation of Halloween." –The Rue Morgue
Sixteen never-before-published chilling tales that explore every aspect of our darkest holiday, Halloween. In addition to stories about scheming jack-o'-lanterns, vengeful ghosts, otherworldly changelings, disturbingly realistic haunted attractions, masks that cover terrifying faces, murderous urban legends, parties gone bad, cult Halloween movies, and trick or treating in the future, Haunted Nights also offers terrifying and mind-bending explorations of related holidays like All Souls' Day, Dia de los Muertos, and Devil's Night.
---
"Children of the Corn" from Night Shift by Stephen King
Driving through the cornfields in rural Nebraska, Burt and Vicky run over a young boy—only to discover that they may not be responsible for his death. Out in the corn, something is watching them, and help is nowhere to be found.
From the unrivaled master of horror and the supernatural, Stephen King, "Children of the Corn," first collected in the extraordinary collection Night Shift in 1973 and then adapted into a horror film franchise of the same name, is a terrifying and unforgettable classic of the genre.
---
The Woman in Black by Susan Hill
"An excellent ghost story . . . . magnificently eerie . . . . compulsive reading." —Evening Standard (London)
Susan Hill's classic ghost story was made into a movie starring Daniel Radcliffe a few years ago, but don't be fooled into thinking a book can't frighten you like a film can. The Woman in Black tells the hair-raising story of a menacing specter haunting a remote country house in England. Psychologically terrifying and deliciously eerie, this novella is quick read that is sure to keep you from sleep long after you've finished reading.
---
"Fiendishly complex and terrifically entertaining." —The New York Times Book Review
Inspector Harry Hole tracks a Norwegian serial killer in this installment of Jo Nesbø's New York Times bestselling series. Now a Major Motion Picture starring Michael Fassbender.
One night, after the first snowfall of the year, a boy named Jonas wakes up and discovers that his mother has disappeared. Only one trace of her remains: a pink scarf, his Christmas gift to her, now worn by the snowman that inexplicably appeared in their yard earlier that day.  Inspector Harry Hole suspects a link between the missing woman and a suspicious letter he's received. The case deepens when a pattern emerges: over the past decade, eleven women have vanished—all on the day of the first snow. But this is a killer who makes his own rules . . . and he'll break his pattern just to keep the game interesting, as he draws Harry ever closer into his twisted web. With brilliantly realized characters and hair-raising suspense, international bestselling author Jo Nesbø presents his most chilling case yet—one that will test Harry Hole to the very limits of his sanity.
Read an excerpt | Browse the reader's guide
---
Since its publication in 1897 Dracula has enthralled generations of readers with the alluring malevolence of its undead Count, the most famous vampire in literature. Though Bram Stoker did not invent vampires, his novel helped catapult them to iconic stature, spawning a genre of stories and movies that flourishes to this day. A century of imitations has done nothing to diminish the fascination of Stoker's tale of a suave and chilling monster as he stalks his prey from a crumbling castle in Transylvania's Carpathian mountains to an insane asylum in England to the bedrooms of his swooning female victims. A classic of Gothic horror, Dracula remains an irresistible entertainment of undying appeal.
Read an excerpt | Browse the reader's guide
---
"Dark and deeply disturbing. Trust me—this tense and frightening piece of horror is not for kids—or for the faint of heart. I'm still shuddering." —R. L. Stine
Deftly weaving together two complex and compelling narrators, S. L. Grey builds an intimate and chilling novel of a disintegrating marriage in the wake of a very real trauma. The Apartment is a terrifying and tour-de-force of horror, psychological thrills, and haunting suspense.
---
"A stunning genre blend of thriller and fantasy."—Booklist
The New York Times bestselling author of The Winter People and Promise Not to Tell returns with a riveting psychological thriller in which an unresolved murder haunts a family for generations, forcing one daughter into a life of hiding and concealed identity to escape a deadly threat.
Read an excerpt | Browse the reader's guide