Wishing My Ántonia a Happy 100th Birthday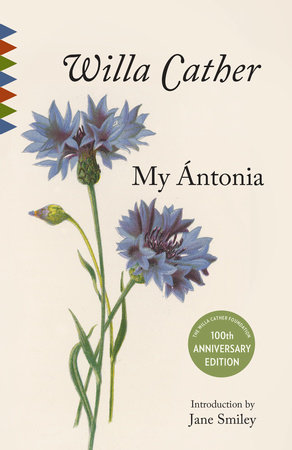 Willa Cather's masterpiece My Ántonia turns 100 this year! Although times have changed, the themes of this American classic resonate today. Boston and Cambridge may be different cities than they were when Jim attended Harvard, but Nebraska is still full of seemingly neverending grassland. Women have more opportunity and independence, but the fight for equality continues. Fewer people make their living off the land, but natural disasters continue to drastically change lives. Immigrants are less likely to come from Bohemia, but thousands still journey to this country in search of a better life. No matter the century, the human spirit endures and overcomes.
In her introduction to the 100th anniversary edition, Pulitzer Prize–winning author Jane Smiley looks back on this important novel and discusses how My Ántonia is a story both of its particular time and place and a universal one affecting many generations. Enjoy this excerpt and don't miss the opportunity to revisit this beloved classic with your book club!
One of the things critics loved about My Ántonia was that it recalled a world of relative human innocence and natural beauty that readers knew, even as the book was being published, was disappearing because of technology, war, urban expansion. My Ántonia is set, perhaps unknowingly, at a particular turning point in American history, where the plains and the mountains, people and towns, writers and readers, were simultaneously isolated and connected, able to feel the power of the landscape and also to escape it.
Jim Burden's last visit to Ántonia is a visit to her victory—she has prospered on the farm she owns with her husband; she is mother to many active and good-natured children who have inherited her health and her wildness. She is happy. A hundred years later, we must set her happiness in the context of the history of the West—fifteen years after the publication of My Ántonia, drought and dust storms brought on by the mechanized plowing of the prairies would challenge the very idea that the land should have been populated, should have been cultivated, should have succumbed to the system of monoculture. Yes, Cather was right, My Ántonia is a queer book, flickering with darkness and light, a true representation of its time, both in terms of wisdom and in terms of ignorance.
We read novels for suspense and drama, and My Ántonia has plenty of both—the Shimerdas' efforts, and those of the other immigrants whom Jim knows, are sometimes tragic, sometimes amusing, and sometimes rewarded. And there is always the pleasure of watching Cather's characters develop—she is perceptive and detailed about their motivations, about their idiosyncrasies, and about how they affect one another. But, finally, it all comes back to landscape, to humans changing and being changed by the difficulties and the beauties of the world they must contend with. It is also true, though, that we read older novels differently from new ones—we read them to understand what we have lost and what we have gained, what the author knew and what she didn't know that she knew, but that we now understand shaped the world we are living in. Because of Willa Cather's intensity of observation, My Ántonia remains a revelation.
—Jane Smiley
From the introduction to the Willa Cather Foundation 100th Anniversary Edition