Digging Deeper into Tom Hanks' Uncommon Type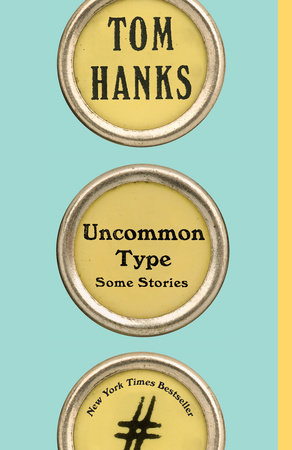 Tom Hanks is a beloved Hollywood actor with two Academy Awards to his name, and with his debut book Uncommon Type, Hanks proves that his enviable skills extend to writing as well. Uncommon Type is a collection of seventeen wonderful short stories that showcase the author's warmth, sensitivity, and humor. From a man who bowls a perfect game and becomes an ESPN star to a World War II veteran struggling with the scars of war, Hanks' characters are sympathetic and intriguing, and their stories lend themselves well to discussion.
We know that short–story collections are sometimes a challenge among reading groups, so we've compiled a list of questions—one for each story—that are sure to get the conversation flowing.
Three Exhausting Weeks
"Yes. I had a girlfriend. A girlfriend changes a man from the shoes he exercises in right up to how he cuts his hair. . . ." (pg. 12) Discuss how Anna and the narrator change each other, for better or worse, and how their relationship reflects the landscape of modern dating.
Christmas Eve 1953
What affected you most while reading Virgil's story? What do you think will stick with you?
A Junket in the City of Light
How do the various viewpoints in this story (i.e., exposition, first-person narrative, etc.) add to your reading experience?
Our Town Today with Hank Fiset—An Elephant in the Pressroom
This is the first of four interludes from Hank Fiset sprinkled throughout the book. What do you make of these brief entries?
Welcome to Mars
Why do you think Kirk doesn't confront Frank about what he witnessed? What do you think happened after the story ends?
A Month on Greene Street
What function do Bette's visions serve in the story?
Alan Bean Plus Four
This entire story has an almost make-believe quality to it. Do you think the trip to the moon happened in the narrator's imagination or did it actually take place? Why?
Who's Who?
New York City comes off as an unforgiving and inhospitable place in this story, where only the chosen few can really make it. How is the setting like a character?
A Special Weekend
What do you think the repetition of "I'm flexible" signifies with regards to Kenny's mother and her relationship with her son?
These Are the Meditations of My Heart
Discuss the appeal of typewriters and other outdated technology and practices in modern society. Why does the narrator in this story gravitate toward them?
The Past Is Important to Us
What does Bert's preoccupation with the past say about our general inability to be satisfied with what we have? Why are we constantly striving for something more or better or different?
Stay with Us
This story is written like a screenplay. How does its structure change your reading experience?
Go See Costas
What do you think of the ending of this story? Did it surprise you?
Steve Wong Is Perfect
Why do you think Hanks begins and ends his collection with stories that feature the same set of characters?