These Books Will Keep You Up at Night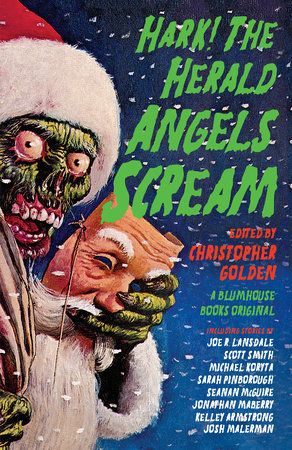 It's spooky book time! Fall never fails to send us diving with delight into horror novels and ghostly tales and this year is no different. We've collected a few truly sinister stories below that are guaranteed to unsettle you long past bedtime.
Hark! The Herald Angel's Scream edited by Christopher Golden
Although technically a Christmas-themed horror collection, these eighteen stories are sure to scare year round.
Bestselling author and editor Christopher Golden shares his love for Christmas horror stories with this anthology of all-new short fiction from some of the most talented and original writers of horror today.
---
The Winter People by Jennifer McMahon
"One of the year's most chilling novels. . . . Enthralling."—The Miami Herald
West Hall, Vermont, has always been a town of strange disappearances and old legends. The most mysterious is that of Sara Harrison Shea, who, in 1908, was found dead in the field behind her house just months after the tragic death of her daughter.
Now, in present day, nineteen-year-old Ruthie lives in Sara's farmhouse with her mother, Alice, and her younger sister. Alice has always insisted that they live off the grid, a decision that has weighty consequences when Ruthie wakes up one morning to find that Alice has vanished. In her search for clues, she is startled to find a copy of Sara Harrison Shea's diary hidden beneath the floorboards of her mother's bedroom. As Ruthie gets sucked into the historical mystery, she discovers that she's not the only person looking for someone that they've lost. But she may be the only one who can stop history from repeating itself.
Read more | View the reader's guide
---
Perfume by Patrick Suskind
"A fable of criminal genius. . . . Remarkable." —The New York Times
In the slums of eighteenth-century France, the infant Jean-Baptiste Grenouille is born with one sublime gift—an absolute sense of smell. As a boy, he lives to decipher the odors of Paris, and apprentices himself to a prominent perfumer who teaches him the ancient art of mixing precious oils and herbs. But Grenouille's genius is such that he is not satisfied to stop there, and he becomes obsessed with capturing the smells of objects such as brass doorknobs and fresh-cut wood. Then one day he catches a hint of a scent that will drive him on an ever-more-terrifying quest to create the "ultimate perfume"—the scent of a beautiful young virgin. Told with dazzling narrative brilliance, Perfume is a hauntingly powerful tale of murder and sensual depravity.
Read more | View the reader's guide
---
The Children of Men by P. D. James
"As scary and suspenseful as anything in Hitchcock." —The New Yorker
The human race has become infertile, and the last generation to be born is now adult. Civilization itself is crumbling as suicide and despair become commonplace. Oxford historian Theodore Faron, apathetic to a future without a future, spends most of his time reminiscing. Then he is approached by Julian, a bright, attractive woman who wants him to help get her an audience with his cousin, the powerful Warden of England. She and her band of unlikely revolutionaries may just awaken his desire to live . . . and they may also hold the key to survival for the human race.
---
The Fifth Child by Doris Lessing
"A hair-raising tale . . . as full of twists and shocks as any page turner could desire." —Time
Doris Lessing's contemporary gothic horror story—centered on the birth of a baby who seems less than human—probes society's unwillingness to recognize its own brutality.
Harriet and David Lovatt, parents of four children, have created an idyll of domestic bliss in defiance of the social trends of late 1960s England. While around them crime and unrest surge, the Lovatts are certain that their old-fashioned contentment can protect them from the world outside—until the birth of their fifth baby. Gruesomely goblin-like in appearance, insatiably hungry, abnormally strong and violent, Ben has nothing innocent or infant-like about him. As he grows older and more terrifying, Harriet finds she cannot love him, David cannot bring himself to touch him, and their four older children are afraid of him. Understanding that he will never be accepted anywhere, Harriet and David are torn between their instincts as parents and their shocked reaction to this fierce and unlovable child whose existence shatters their belief in a benign world.
---
The Bad Seed by William March
"An impeccable tale of pure evil." —The Atlantic
There's something special about eight-year-old Rhoda Penmark. With her carefully plaited hair and her sweet cotton dresses, she's the very picture of old-fashioned innocence. But when their neighborhood suffers a series of terrible accidents, her mother begins to wonder: Why do bad things seem to happen when little Rhoda is around?
Originally published in 1954, William March's final novel was an instant bestseller and National Book Award finalist before it was adapted for the stage and made into a film om 1965. The Bad Seed is an indelible portrait of an evil that wears an innocent face, one that still resonates in popular culture today.