Fall in Love with Historical Fiction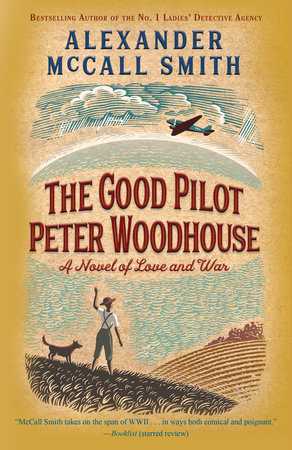 A sweeping historical romance novel can be a treat all year long, but we think this genre is especially sweet to read around Valentine's Day. We've collected a few of our favorites—from classics to newer works—that are sure to please. Happy reading!
The Good Pilot Peter Woodhouse by Alexander McCall Smith
Val Eliot is working on an English farm during the war when she meets Mike, a U.S. Air Force pilot stationed nearby. The two become close, and after Val rescues a border collie named Peter Woodhouse, who is being mistreated by his owner, she realizes the dog would actually be safer with Mike. Soon Peter Woodhouse settles into his new home on the air force base, and Val and Mike fall deeply in love. But when a disaster jeopardizes the future of them all, Peter Woodhouse brings Ubi, a German corporal, into their orbit, sparking a friendship that comes with great risk but carries with it the richest of rewards.
Infused with Alexander McCall Smith's renowned charm and warmth, The Good Pilot Peter Woodhouse is an uplifting story of love and the power of friendship to bring sworn enemies together.
Read an excerpt | View the reader's guide
---
The Light in the Ruins by Chris Bohjalian
1943: Tucked away in the idyllic hills of Tuscany, the Rosatis, an Italian family of noble lineage, believe that the walls of their ancient villa will keep them safe from the war raging across Europe. But when two soldiers—a German and an Italian—arrive at their doorstep asking to see an ancient Etruscan burial site, the Rosatis' bucolic tranquility is shattered.
1955: Serafina Bettini, an investigator with the Florence Police Department, has successfully hidden her tragic scars from WWII, at least until she's assigned to a gruesome new case—a serial killer who is targeting the remaining members of the Rosati family one by one. Soon she will find herself digging into past secrets that will reveal a breathtaking story of moral paradox, human frailty, and the mysterious ways of the heart.
Read an excerpt | View the reader's guide
---
Atonement by Ian McEwan
On a hot summer day in 1935, thirteen-year-old Briony Tallis witnesses a moment's flirtation between her older sister, Cecilia, and Robbie Turner, the son of a servant and Cecilia's childhood friend. But Briony's incomplete grasp of adult motives—together with her precocious literary gifts—brings about a crime that will change all their lives. As it follows that crime's repercussions through the chaos and carnage of World War II and into the close of the twentieth century, Atonement engages the reader on every conceivable level, with an ease and authority that mark it as a genuine masterpiece.
Read an excerpt | View the reader's guide
---
The Daring Ladies of Lowell by Kate Alcott
Eager to escape life on her family's farm, Alice Barrow moves to Lowell in 1832 and throws herself into the hard work demanded of "the mill girls."  The hours are long and the conditions are bad, but Alice soon finds a true friend in Lovey Cornell, a saucy, strong-willed girl who is outspoken about the dangers they face in the factories . . . and about Alice opening her heart to a blossoming relationship with Samuel Fiske, the handsome and sympathetic son of the mill's owner.
But when Lovey is found dead under suspicious circumstances, a sensational trial brings the workers' unrest to a boiling point, leaving Alice is torn between finding justice for her friend and her growing passion for the man with whom she had no business falling in love.
Read an excerpt | View the reader's guide
---
Suite Française by Irène Némirovsky
Beginning in Paris on the eve of the Nazi occupation in 1940, Suite Française tells the remarkable story of men and women thrown together in circumstances beyond their control. As Parisians flee the city, human folly surfaces in every imaginable way: a wealthy mother searches for sweets in a town without food; a couple is terrified at the thought of losing their jobs, even as their world begins to fall apart. Moving on to a provincial village now occupied by German soldiers, the locals must learn to coexist with the enemy—in their town, their homes, even in their hearts.
When Irène Némirovsky began working on Suite Française, she was already a highly successful writer living in Paris. But she was also a Jew, and in 1942 she was arrested and deported to Auschwitz, where she died. For sixty-four years, this novel remained hidden and unknown.
Read an excerpt | View the reader's guide
---
Mothering Sunday by Graham Swift
On an unseasonably warm spring day in 1924, twenty-two-year-old Jane Fairchild, a maid at an English country house, meets with her secret lover, the young heir of a neighboring estate. He is about to be married to a woman more befitting his social status, and the time has come to end the affair—but events unfold in ways Jane could never have predicted.
As the narrative moves back and forth across the twentieth century, what we know and understand about Jane—about the way she loves, thinks, feels, sees, and remembers—expands with every page. In Mothering Sunday, Booker Prize-winning novelist Graham Swift has crafted an emotionally soaring and profoundly moving work of fiction.
Read an excerpt | View the reader's guide
---
The Stars Are Fire by Anita Shreve
In October 1947, Grace Holland is experiencing two simultaneous droughts. An unseasonably hot, dry summer has turned the state of Maine into a tinderbox, and Grace and her husband, Gene, have fallen out of love and barely speak. Five months pregnant and caring for two toddlers, Grace has resigned herself to a life of loneliness and domestic chores. One night she awakes to find that wildfires are racing down the coast, closer and closer to her house.  Forced to pull her children into the ocean to escape the flames, Grace watches helplessly as everything she knows burns to the ground.  By morning, her life is forever changed: she is homeless, penniless, awaiting news of her husband's fate, and left to face an uncertain future in a town that no longer exists. With courage and stoicism, Grace overcomes devastating loss and, through the smoke, is able to glimpse the opportunity to rewrite her own story.
Read an excerpt | View the reader's guide