The Characters of There There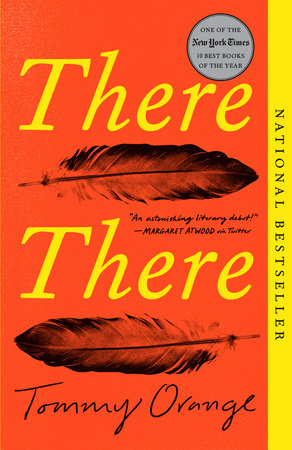 If you're a fan of beautifully written literary fiction with depth, then There There should be on your TBR list. Tommy Orange's debut novel follows twelve characters of Native American descent in contemporary California as they converge for the Big Oakland Powwow. We don't want to give too much away about the story, which The New York Times Book Review describes as "pure soaring beauty," but we did think the character guide below would come in handy. This should help you and your reading group keep track of the various personalities and back stories as you discuss Orange's complex and profound novel.
Tony Loneman – twenty-one years old, born and raised in Oakland, of Cheyenne descent. Born with fetal alcohol syndrome, which he calls the Drome. Lives with his grandmother Maxine and deals drugs with Octavio.
Dene Oxendene – young documentary filmmaker enrolled in the Cheyenne and Arapaho tribes. Born and raised in Oakland. Is carrying on a project in memory of his uncle, collecting the stories of Native people in the Oakland area.
Opal Viola Victoria Bear Shield – woman in her fifties of Cheyenne descent. At age 11 in 1970, her mother took her and her half-sister, Jacquie Red Feather, to Alcatraz to participate in the Native American occupation of the island.
Edwin Black – biracial young man: his mother, Karen, is white, and his father, Harvey, whom he has never known, is Native. Once dreamed of becoming a writer; earned a master's degree in comparative literature with a focus on Native American literature. Loves the Internet. Recently started an internship assisting with the Big Oakland Powwow.
Bill Davis – boyfriend of Edwin's mother, Karen. Lakota. Longtime maintenance worker at the Oakland Coliseum. Vietnam veteran who spent five years in San Quentin for stabbing a man. Read almost the whole time he was in—Raymond Carver and William Faulkner, Hunter S. Thompson, Oscar Zeta Acosta and Ken Kesey.
Calvin Johnson – young man; Native; down on his luck and staying with his sister, Maggie. Owes drug money to his brother, Charles (who works with Octavio).
Jacquie Red Feather –half-sister of Opal; a substance abuse counselor who is herself newly sober. Gave a child up for adoption in her youth; raised another daughter, Jamie, who passed away. Now has three grandsons for whom Opal is caring.
Orvil Red Feather – fourteen years old; one of Jacquie's grandsons. Cheyenne. Is deeply interested in his heritage and plans to dance at the powwow.
Octavio Gomez – the drug dealer for whom Tony and Charles (Calvin's brother) work.
Daniel Gonzales – cousin of Octavio.
Blue – head of the powwow committee at the Indian Center.
Thomas Frank – Cheyenne; drummer who formerly worked as a custodian at the Indian Center. Was invited to perform at the powwow with a group called Southern Moon.