A Creative Cocktail for Lauren Hough's Leaving Isn't the Hardest Thing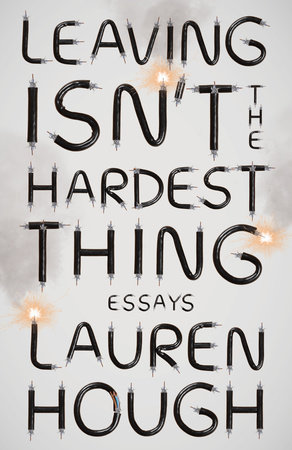 Lauren Hough's remarkable debut, Leaving Isn't the Hardest Thing, is, as Roxane Gay puts it, "a memoir in essays about so many things—growing up in an abusive cult, coming-of-age as a lesbian in the military . . . and what it's like to grow into the person you are meant to be." It's an honest, brave, and laugh-out-loud funny glimpse into the heart of working-class America sure to delight fans of Jia Tolentino and Joan Didion. You can read an excerpt here!
One of Lauren's many assumed identities over the years was that of a bartender, so when we asked her for a cocktail recipe to pair with the book, we weren't sure what to expect. What she delivered, The Sticky Mattress, is just as candid, profane, and hilarious as the woman herself. Read on to learn about the origins of the questionably named drink and pick up your copy of Leaving Isn't the Hardest Thing today!
1.  I was trained to bartend by "Amy" (not her real name) who told me if they ask for a shot and can't tell you what's in it, they get a fucking beer and they'll like it.
2. Americans can't pronounce things so for a while I thought when they ordered a Madras, they were saying "mattress." And I figured there really should be a shot called a mattress. So here it is, the only shot I created back in the day, and what I'd pour when they ordered some weird shit their last bartender made up and didn't know what was in it—The Sticky Mattress:
Pour into shaker with ice:
1.5 oz Jim Beam
2 oz peach schnapps
Splash of grenadine
Shake the shit out of it
Drop a cherry in a shot glass
Strain and pour
—Lauren Hough