Celebrate Black History Month with These New Paperbacks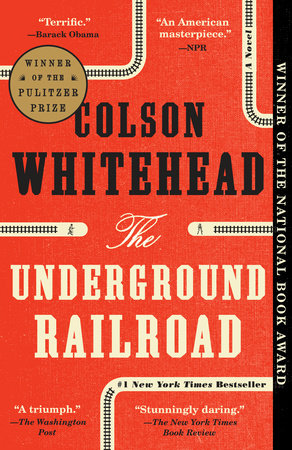 In honor of Black History Month, here's a list of some of our favorite recent reads written by black authors. But don't forget the classics!! You can see our list of iconic literature from African Americans here.
The Underground Railroad by Colson Whitehead
"Terrific." —Barack Obama
Winner of many prizes, from the National Book Award to the Pulitzer Prize to the Arthur C. Clarke Award, Colson Whitehead's novel which features an Underground Railroad with an actual train running on tracks underground is a triumph. His heroine, Cora, will stick with you for a long time to come.
Read an excerpt | View the readers guide
---
The Tragedy of Brady Sims by Ernest J. Gaines
"A taut and searing tale about race and small-town justice."—Donna Seaman, Booklist
This novella, by the author of A Lesson Before Dying, revolves around a courthouse shooting that leads a young reporter to uncover the long story of race and power in his small town and the relationship between the white sheriff and the black man who "whipped children" to keep order. Told with surprising empathy, this book is everything you don't expect it to be.
Read an excerpt | View the readers guide
---
"Homegoing is an inspiration." —Ta-Nehisi Coates
Many times over a best book of the year, this debut novel tells the story of two half-sisters born in eighteenth-century Ghana and their descendants as they travel divergent paths through history. This extraordinary novel illuminates slavery's troubled legacy both for those who were taken and those who stayed—and shows how the memory of captivity has been inscribed on the soul of our nation.
Read an excerpt | View the readers guide
---
We Are Never Meeting in Real Life. by Samantha Irby
"This book didn't make me laugh out loud. It made me laugh silently, wheezing and crying, until my sides ached." —Rainbow Rowell
An achingly funny and surprisingly poignant collection of essays, you'll soon find yourself pushing everyone you know to read this book. Whether she is describing how her difficult childhood has led to a problem in making "adult" budgets, explaining why she should be the new Bachelorette, or detailing a disastrous pilgrimage-slash-romantic vacation to Nashville to scatter her estranged father's ashes, she's as deft at poking fun at the ghosts of her past self as she is at capturing powerful emotional truths.
---
I Am Not Your Negro by James Baldwin and Raoul Peck
This companion edition to the Academy Award–nominated documentary is mined from James Baldwin's published and unpublished oeuvre: passages from his books, essays, letters, notes, and interviews that are every bit as incisive and pertinent now as they have ever been. Weaving these texts together, Peck brilliantly imagines the book that Baldwin never wrote.